Join Our Reseller Program And Earn 60% Per Sale!

5 sales a day = over $40,000 a year! Just imagine if you made more!

Joining our affiliate program is easy and it wont cost you a thing. It's free to sign up with no registration fees. Just click here to become a member. It will take you under 5 minutes to sign up and in no time you will be getting ClickBank checks mailed right to your door.
After signing up simply use your affiliate link to advertise, link it to your current web page, put a link on Google, or any other means you know to generate sales.
To get your affiliate link simply replace the XXXXX with you're your ClickBank account nickname and your well on you way.
http://XXXXX.tanetwork.hop.clickbank.net
So if your ClickBank acount nickname was jack21
Your link would look like this:
http://jack21.tanetwork.hop.clickbank.net
If you are already a ClickBank member, create your link here!
To see your affiliate link code enter your ClickBank nickname below and click the button.
You can log onto ClickBank account anytime to see how many sales you have made. After that just sit back and every two weeks a check is written and mailed to you. Easy as that!
Any questions about our affiliate program please don't hesitate to send us an email at reseller@total-advertising-network.com
---

Banner Ad



Banner 300x250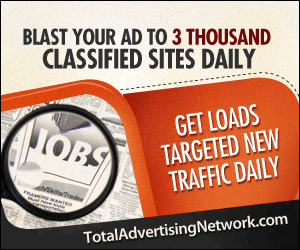 <div align="center"><a target="_new" href="http://XXXXX.tanetwork.hop.clickbank.net">
<img alt="Total Advertising Network" border=0 src="http://www.total-advertising-network.com/images/totalad4.gif"></a></div>
Paste the above code into your webpage replacing the xxxxx with
your ClickBank Nickname